Symptom:

When installing ESXi on a Dell Poweredge for a Control Server system, the ESXi OS installation on the host fails almost immediately, showing an error message similar to this: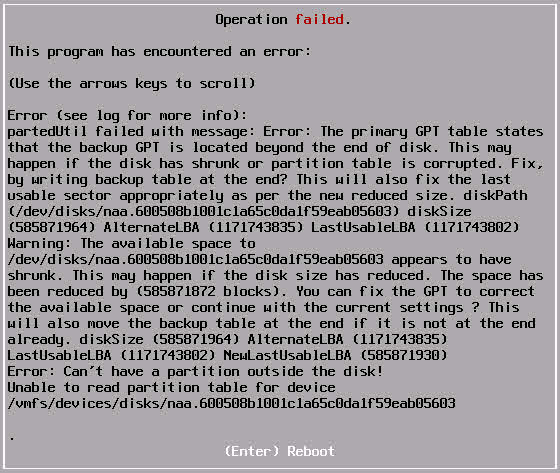 Environment:

GE Control Server - HA/Simplex

Dell Poweredge R430 / R440

ESXi 6.0, 6.5, 6.7
CS2.0.0-CS2.0.1

Cause:

The RAID array / disk size has been reduced since the previous ESXi install.

This causes the partition table to be created outside the boundaries of the disk space, resulting in an OS install error.

Resolution:

Perform a "Clear" operation on each of the disks causing you problems in the server's BIOS.

Restart the server and enter the BIOS on the next boot by pressing F2 when prompted.

Navigate to Device Settings --> [name of RAID controller] --> Physical Disk Management

Select each disk that is part of the RAID array you are attempting to install ESXi onto and from the actions drop-down, set the action to "Clear"

Then select "Go" and allow to operation to complete.

Once completed on all disks, install ESXi again and you will not run into the above error.